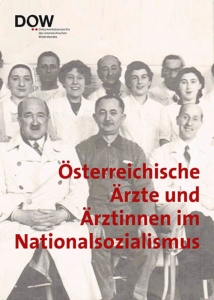 DÖW Yearbook 2017
Published by Herwig Czech and Paul Weindling on behalf of the Documentation Center of Austrian Resistance
Editing: Christine Schindler
Vienna, 2017
303 pages
Price: € 19.50
This publication examines the effects of National Socialism on Austrian medicine, with the focus being on the large group of persecuted – mostly Jewish – men and women doctors. It is an updated compilation of lectures given at a conference at the Medical University of Vienna on April 16, 2015, co-organized by the Medical Univertsity, the Documentation Center of Austrian Resistance (DÖW) and the Natural History Museum Vienna. The conference had been sponsored by the Center for Medicine after the Holocaust (Houston, TX).
Topics include:
The systematic exclusion of Jews from the medical profession and their ultimate deportation out of the city;
The Institute of Racial Biology (Rassenbiologisches Institut) at the University of Vienna; where 19th century concepts of racial anthropology and eugenics were investigated and promulgated;
The criminal, forced experiments for converting salt water to drinking water on prisoners at the Dachau concentration camp in 1944;
Dealings with Nazi physicians after 1945.
All contributions are in German.
CONTENT
INTRODUCTION (Herwig Czech / Paul Weindling, Österreichische Ärzte und Ärztinnen im Nationalsozialismus: Einleitung)
CVs of the 18 authors
The DÖW yearbook 2017 comprises work done during 2016 by the Documentation Center of Austrian Resistance. Compiled by Christine Schindler under the title Ein lebendiger Ort der Erinnerung ("A vibrant place of remembrance").
ORDER
Members of the American Friends of the Documentation Center of Austrian Resistance can get the yearbook at a reduced price. Contact: DWWildermuth@ship.edu