Edited by Claudia Kuretsidis-Haider and Christine Schindler
on behalf of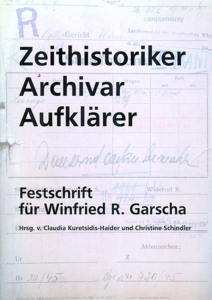 The Documentation Center of Austrian Resistance / Dokumentationsarchiv des österreichischen Widerstandes (DÖW)
and the Austrian Research Agency for Post-War Justice / Zentrale österreichische Forschungsstelle Nachkriegsjustiz (FStN)
The historian Winfried R. Garscha, archivist at the Documentation Center of Austrian Resistance and co-Director of the Research Agency for Post-War Justice, celebrated his 65th birthday in May 2017. On this occasion DÖW and FStN published a "festschrift" in which the contributions of more than 30 authors reflect the broad spectrum of Garscha's research.
According to his own publications the texts thus span an arc from the history of the labor movement; through World War I and First Republic; to Nazi rule, resistance, persecution, and the Holocaus. Likewise examined are the judicial prosecution of Nazi crimes in Austria and other forms of coming to terms with the sequels of the Nazi dictatorship. The book includes contributions in German and English.
Among the English texts are Evan Burr Bukey's interview of the Nazi mayor of Linz, Josef Wolkerstorfer (28 July 1978), as well as essays by
Günter Bischof  ("Busy with Refugee Work": Joseph Buttinger, Muriel Gardiner, and the Saving of Austrian Refugees, 1940–1941),
Michael Bryant (The Death Camp as a Criminal Organization. Theories of Systemic Criminality in Nazi Death Camp Trials, 1945–2015), and
Felix Tweraser (Arthur Schnitzler, Political Identity Formation, and First-Republic Austria).
Among the German texts are of special interest for American readers the essays by
Brigitte Bailer about the German contribution to the indemnification of Austrian Nazi victims (Deutsche Zahlungen für österreichische Opfer des Nationalsozialismus – das Abkommen von Bad Kreuznach),
Hans Hautmann about Austrian military justice in Bosnia and Herzegovina before and during World War I (Kriegsjustiz in Bosnien-Herzegowina unter Habsburgs Herrschaft),
Eleonore Lappin-Eppel about a Viennese resistance group of "half Jewish" juveniles (Die "Mischlingsliga Wien" – Widerstandsgruppe und Jugendorganisation),
Wolfgang Neugebauer (Zur Struktur, Größe und Effizienz des kommunistischen Widerstands in Österreich 1938–1945),
Siegfried Sanwald about the Austrian judiciary and Adolf Eichmann (Adolf Eichmann und die österreichische Justiz. Neue Aspekte auf der Grundlage des Akts des Bundesministeriums für Justiz), and
Kurt Tweraser about the failed attempt of US Allied Commission for Austria in 1946, to privatize German assets in Austria (Der gescheiterte amerikanische Versuch, das "Deutsche Eigentum" in Österreich zu privatisieren),
as well as a "footnote" by Dick de Mildt about new arguments of the German prosecutors with regard to the punishment of Nazi crimes (Fußnote zur "Justizwende" in der Bundesrepublik Deutschland).
Garscha's colleague, co-director Claudia Kuretsidis-Haider, added a "workshop report" about common research into Austrian post World War II judiciary by both scholars (20 Jahre Zentrale österreichische Forschungsstelle Nachkriegsjustiz. Ein Werkstattbericht). Under the title "It's crucial to pose the right questions", Rudolf Leo followed Garscha's traces in Austrian media ("Wichtig ist, richtige Fragen zu stellen." Winfried R. Garscha im  Spiegel ausgewählter österreichischer Medien).
Vienna 2017
500 pages
Price: EUR 19,50